WSBC Bulletin - Employer resource on preventing slips, trips, and falls in manufacturing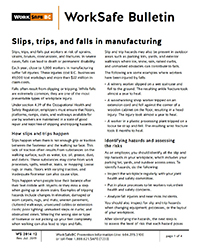 Employers are responsible for identifying hazards and assessing the risks for slips, trips and falls in manufacturing industries. As a worker, you can benefit from reading this information and following the guidelines at your workplace, or speaking up if you see a problem. Click on graphic to right.
You can also download and print the poster below.