Sister Rachel Allan joins Union's Executive Board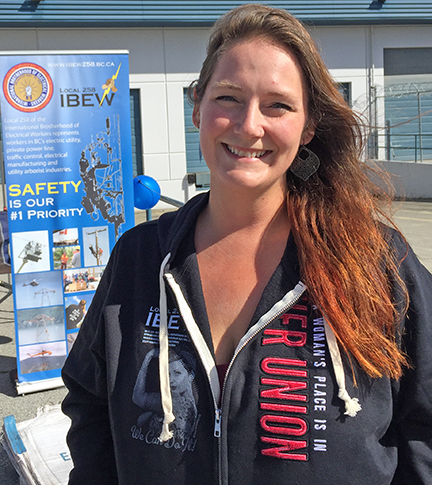 Sister Rachel Allan at the Women's Committee's successful drive-thru drop off empties event in late August helping to raise funds to support Food Banks BC.
September 25, 2020 - In July of this year, Sister Rachel Allan accepted the Union Executive Board's appointment and is now serving as Chair of Unit 6. The appointment was made to fill the position when the previous Chair, Sister Dayna Gill, was hired to work in the Local 258 IBEW Union Hall as an Assistant Business Manager. The appointment is effective until the end of the term in 2022.
An up and coming Union activist, Sister Allan felt it was time to step forward and take on a larger role with her Union. A member of Local 258 IBEW since June 2015, Rachel says, "I have a sense of gratitude to my Union for supporting me with various educational and Committee opportunities over the years. I was juggling 3 part-time jobs before I became a Union Member. I could barely make ends meet. My life is completely changed for the better; I am able to travel, I have savings and RRSPs, and I have extended medical and dental coverage. My financial stability and peace of mind is possible thanks to our Union-negotiated collective agreements."
Sister Allan has been a long-time member of our Women's Committee, currently serving as Vice Chair, and has attended the IBEW Women's Leadership Training. She has taken labour education classes, sponsored by Local 258 IBEW, at the Canadian Labour Congress Winter School at Harrison Hot Springs and has recently became involved with our new NextGen Committee. Rachel also serves as a Shop Steward in her workplace, Prime Traffic Solutions, based in Langley, where she works as a Traffic Control Person.
In her spare time, Rachel enjoys being in nature with her dog, Odin, and volunteers with a mentoring program called KidStart.
Recently, Brother Doug McKay appointed Rachel to serve on the United Way's Fall 2020 fundraising campaign as a campaign associate representing our Union.
Having joined the August and September E-Board Conference call meetings, Sister Allan looks forward to meeting Unit 6 members whenever in-person meetings resume.