Thanksgiving message from Doug McKay, Local 258 IBEW BM/FS, emailed Oct. 10, 2020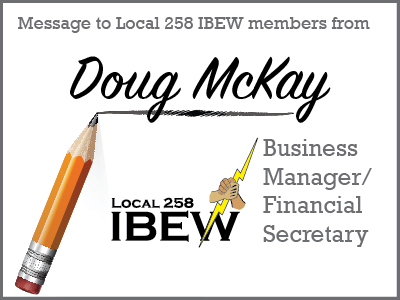 I would like to wish you, and your family, a Happy Thanksgiving long weekend.
The corona virus continues to be transmitted in our communities as the COVID-19 pandemic rages on. Now is not the time to let your guard down. If you are hosting or will be attending a family/friends gathering this Thanksgiving long weekend, public health officials are strongly recommending small groups of no more than 6 people in your bubble, confirming everyone in your group is feeling well and doesn't have symptoms or recent contact with a confirmed case. Additional, recommended information is available on the BC Centers for Disease Control website and I encourage you to visit this site.
I am pleased to announce that with careful consideration and following all public health and safety protocols, we are reopening our Local 258 IBEW Union Hall in Langley to members and visitors, effective Tuesday, October 13, 2020. Staff have received training and if you choose to visit us, please follow their instructions, including using our complimentary hand sanitizer and maintaining physical distancing, or wearing a mask if you won't be able to. If you do not feel well, please stay home and contact your doctor – do not visit us and do not go to work. Please note, your Union Hall will be closed on the stat holiday Thanksgiving Day, and will reopen for business on Tuesday, October 13 at 8:00 am.
"Good governance is mandatory; politics is an unfortunate distraction". And with that, we are now in the midst of a provincial election. Please log-in to your member account, and tell your Union brothers & sisters where you work to sign up for their own member account, on our Union website at www.ibew258.bc.ca, to find out more about the important issues at stake in this election that will take place on Saturday, October 24th. There is also detailed information about the many options available for you to vote safely in this election.
Nominations are now open for the Carol McGregor Disability Rights Award, created by the Canadian Labour Congress to recognize the outstanding contributions of a worker with a disability who has made a significant and lasting impact in their union and/or the community by promoting and defending the rights of persons with disabilities.
The bi-annual IBEW International Women's Conference gathering was cancelled this year and organizers have now planned a number of educational and engaging events that will take place during the month of October by Zoom and are open to all IBEW members. Find out more here.
I have hired Sister Marina Luporini to work as an Assistant Business Manager at the Union Hall in Langley to provide professional Union services and representation to our members working in Traffic Control and Manufacturing. Sister Luporini hails from a strong Union-supporting family and has a university degree from Simon Fraser in Business Administration, with a focus on labour relations and human resources. We look forward to her expertise and hope you will join me in welcoming her.
A few tickets remain for the IBEW First District Canada draw for a $5,000.00 cash prize, and a Grand Prize draw for a 2020 Harley-Davidson Road King FLHR. The draw date has now been confirmed for October 29th. Please visit your website for further details. You can contact me directly for tickets and I will get them to you right away.
For members who own their personal smart phone or tablet device, our Local 258 IBEW App is now available for download. Simply follow the links when you log-in to your website member account at www.ibew258.bc.ca. The App provides a quick and easy reference to your Union website and delivers important notifications from your Union. For members who have been provided with a work phone by BC Hydro, we have been advised our App is incompatible with recent security updates and we are working on a solution. We appreciate your feedback on the App and look forward to your comments - please email communications@ibew258.bc.ca.
Union President Dave McMinn has advised that our Local 258 IBEW Unit Meetings remain cancelled until further notice due to the COVID-19 pandemic. He also has a request for members to send in workplace photos for inclusion in a promotional video and to email any photos to Brother Dean Kotaras, Unit 3 Chair, at dkotaras@ibew258.bc.ca.
Your Local 258 IBEW Executive Board will meet again by conference call to conduct Union Business on Tuesday, November 3rd. Minutes from the October meeting have now been posted on your password-protected Union website. I encourage you to read them.
The next Stat Holiday is: Remembrance Day, Wednesday, November 11, 2020.
Thank you for reading this email. Happy Thanksgiving weekend, and remember Dr. Bonnie Henry's wise advice to "Be kind, be calm, and be safe", at work and at home.
In solidarity
Doug McKay
Business Manager/Financial Secretary
Local 258 IBEW
Email: dmckay@ibew258.bc.ca
Cell phone: 604-209-4067
Office Direct: 604-515-3240