Message from Doug McKay, Local 258 IBEW Business Manager – March 8, 2021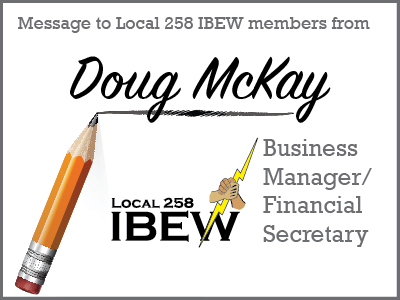 email sent March 8, 2021
It's International Women's Day and Local 258 IBEW joins with Canada's labour movement in recognizing the achievements women have made as we continue to support and take action on the fight for equality.
Tax receipts for Union dues paid in 2020 have now been mailed to your home address that we have on file. Thank you to the many members who are keeping their contact information current through updating their member account online.
Please join us for our virtual town hall meeting, using Microsoft Teams, tomorrow evening, Tuesday, March 9th, starting at 7:00 pm PST. Please RSVP if you haven't already to receive the link for the meeting – deadline to RSVP is noon tomorrow.
We remain waiting on the "official" results of the IBEW Photo Contest that closed on March 1st and we'll let you know when the announcement is made. Thank you to everyone who voted for Local 258 Brother Brad Masse's photo.
A reminder that Webinar Wednesday takes place this week with pre-registration required.
Our IBEW Local 2228 brothers and sisters working at NAV CANADA need our support. Find out more here and sign the petition today.
Feeling lucky? Only 500 tickets will be sold for a chance to win $20,000 in this year's IBEW First District Cash Draw, with two additional draws of $5,000 each also being offered. Call the Local 258 IBEW Union Hall at 604-520-3305 or toll free 1-877-520-3305 to purchase your ticket(s) by phone with your credit card today. Tickets are $100 each and proceeds will assist funding the IBEW First District International Representatives reception at this year's International Convention, scheduled to take place in Chicago in September.
If you need to visit your Union headquarters in Langley, please remember to call ahead to schedule an appointment (604-520-3305). Upon arrival, you will be asked to complete a COVID-19 questionnaire, wear a mask, sanitize your hands, maintain physical distance and follow all instructions from our COVID-19 safety trained support staff.
COVID-19 vaccines are now being rolled out across the province and details about the registration process are now available from your local health authorities.
Please remember to stay safe at work and at home and thank you for reading this email.
In solidarity,
Doug McKay
Business Manager/Financial Secretary
Local 258 IBEW
cell: 604-209-4067
email: dmckay@ibew258.bc.ca