Labour Day message emailed to members from Brother Doug McKay, Business Manager/Financial Secretary, Local 258 IBEW:
September 3, 2020 - On behalf of my Assistant Business Managers, our Union's Executive Board and staff at the Union Hall, I wish you all a safe and happy Labour Day long weekend and thank you for the important work you do. We recognize the ways our world has changed and the challenges that have arisen, in both our workplaces and in our circle of family and friends, as we all continue to adapt to the evolving health & safety measures instituted by our public health officials to help us move through the COVID-19 pandemic.
Labour Day has a storied history, going back to the late1800s when labour Unions fought to have the first Monday in September declared a legal paid holiday to recognize the valuable contribution working men and women make to our communities, society in general and to Canada's economy. Since then, traditional Labour Day celebrations featuring picnics, parades and/or musical celebrations in communities across the country have been the norm, but this year, with the COVID-19 pandemic, the celebrations will be vastly different.
We will be posting interesting historical information, including virtual events that will be happening, and even a link to a podcast from the BC Labour Heritage Centre, throughout the weekend on your website at www.ibew258.bc.ca. I hope you can take a moment to visit your recently redesigned website and find out about more the history of Labour Day and the struggles and achievements of those in organized labour who came before us and the challenges and successes we continue to fight for to improve your, and your family's, life.
Please enjoy your "end of the summer" long weekend. Now, more than ever, we all have to do our part. Successfully managing this pandemic is not done alone, we all have to work together to have the best outcomes as we wait for an effective treatment and/or a vaccine. It's a priority to maintain social distancing, engage in frequent handwashing, wear a mask, keep your 'bubbles' small, limit your social interactions, and remember, don't go to work if you are not feeling well.
Our Union Hall will be closed on Monday, September 7 and will reopen with staff providing member services on Tuesday, September 8 at 8 am. The office remains closed to members and visitors until further notice.
I am available by cell phone this weekend if you need to contact your Union. We are all here for you.
Thank you for reading this email and remember Dr. Bonnie Henry's wise advice to "Be kind, be calm, and be safe", at work and at home.
In solidarity,
Doug McKay
Business Manager/Financial Secretary
Local 258 IBEW
Email: dmckay@ibew258.bc.ca
Cell phone: 604-209-4067
Office Direct: 604-515-3240
---
Be sure to ckeck out Dr. Bonnie Henry's Good Times Guide: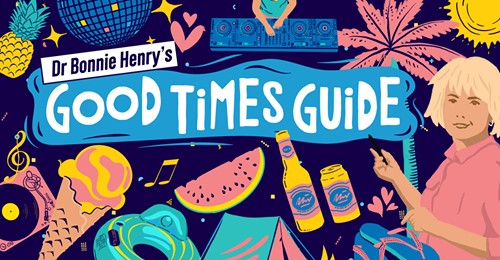 ---
Labour Day message from Harry Bains, BC's Minister of Labour:
---
On Labour Day 2020 the Canadian Labour Congress launches "Forward Together: A Canadian Plan" campaign
---
BC Federation of Labour:
On a physically distanced Labour Day, let's celebrate working people and work together for a fairer BC
by Laird Cronk, President
and Sussanne Skidmore, Secretary-Treasurer
BC Federation of Labour
This Labour Day is a lot different from past years. You won't see the big parades, rallies and parties we usually have. Instead it's small, carefully-distanced backyard get-togethers and on-screen virtual celebrations.
But there's a deeper change that's happening too. Something important has shifted in British Columbia.
This year has reminded us all of just how utterly and completely our province relies on working people: to keep our economy going, to provide the necessities of life, to deliver the services families need.
2020 has taught us that the front lines are much broader and deeper than many people assumed. Suddenly, many of the lowest-paid workers in the most precarious jobs in BC are finally getting some long-overdue recognition. And we've stopped seeing workplace safety as something that only affects individual workers, and recognizing it for what it is: a vital underpinning of public health.
What's more, we're discovering that there's a lot more we can be doing to make life better for all of us. The COVID-19 pandemic has prompted governments to come together with quick, dramatic action on a wide range of fronts: supporting the incomes of laid-off workers, protecting vulnerable British Columbians with increases to disability and income assistance rates, providing help for renters, subsidizing wages, investing in health care and education, improving employment standards and workplace safety, and even making the first moves toward paid sick leave.
Of course, a lot of this has happened because BC has the benefit of a provincial government that listens to working people. The contrast with other provinces — and south of the border — is often stark.
But we've also had something else on our side: a strong, determined labour movement backed by working people across BC. And there's every reason to believe that movement is gaining strength.
There's a new momentum for organizing, and a big part of that comes as the pandemic shows working people that our lives are on the line. The stronger and more united we are, the better we're able to press for safer workplaces, better working conditions and a fairer deal.
And that's doubly important now, because we've learned something else in the past several months.
COVID-19 exposed how deep and wide the gaps in our province are, and how many people have been left out and sold short in BC's economy. Those gaps and inequities weren't just unfair in and of themselves. They were vulnerabilities the virus exploited, and left us all more exposed and at risk.
But the way we've responded, as communities and through our governments, shows us we don't have to just accept those gaps. And we don't have to recreate those inequities.
So as much as 2020 has been about shutting down, it's also increasingly about opening up — that is, opening up possibilities for positive, lasting changes. And this year, that's what's really worth celebrating: this new sense of possibility and potential in the strength we have together.
The pandemic is far from over, but the rebuilding in BC has begun. And as we rebuild, we can regain what we had — but we can also rebuild something stronger and fairer.
We can build stronger, more resilient communities that are better able to grapple with big challenges, whether it's ending this pandemic, fighting off the next one or addressing the threat of climate change. We can build a fairer, greener economy where everyone can benefit — and where we make every job a good job. We can make investments that improve crucial services everywhere from classrooms to hospitals to transit.
And thanks to the working people of British Columbia, we are going to emerge from this pandemic. So that we can hold out hope that next year, we'll be able to truly celebrate together.
Happy Labour Day, everyone.
---
Labour Day Message from IVP Tom Reid, IBEW First District Canada
Sisters and Brothers:
Labour Day in Canada has been celebrated since the 1880s, in the beginning it was a day for workers to lobby for better working conditions and pay. On July 23, 1894, Prime Minister John Thompson passed a law making Labour Day official in Canada and it has since evolved into a Statutory Holiday and a long weekend for workers to gather and recognize our struggles and celebrate our achievements.
This year Labour Day will be celebrated differently due to the COVID-19 pandemic. Unfortunately, many events such as traditional parades have had to be cancelled or changed to a virtual event. Other inventive events such as caravans have been organized to show our solidarity and continue celebrating the struggles and achievements of the labour movement.
I want to thank you all for everything you do and let you know that I could not be prouder of how our membership has responded to the challenges presented by the pandemic. Many of you were deemed essential, rose to the occasion and made the IBEW proud.
Please take some much-deserved time to spend with your family and friends and get some much-needed rest and relaxation, but please do so safely. If you are involved in any of the Labour day activities, please remember to wear a mask, wash your hands regularly and to social distance in all settings. We cannot let down our guard against this terrible virus. Stay safe and stay healthy.
Thank you again for all that you do for the IBEW.
In solidarity,
Tom Reid, IVP
IBEW 1st District
---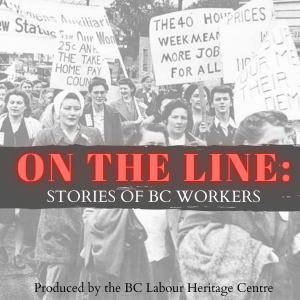 Listen to the podcast here.
A new Canadian labour history storytelling podcast, produced by volunteers & staff of the BC Labour Heritage Centre on unceded Musqueam, Tsleil-Waututh, Squamish territories. Hosted by labour reporter & author Rod Mickleburgh, with new episodes released the first Monday of every month. Listen to our first episode on Labour Day 2020.
Joe Naylor: At the annual Miners Memorial Weekend held in Cumberland, British Columbia each June, participants lay roses at the grave of the famous labour martyr Ginger Goodwin. Nearby his distinctive headstone, almost unnoticed, is a simple metal plate affixed to a stone. This modest marker identifies the grave of coal miner Joe Naylor (1872-1946), an unsung hero of the labour movement and both comrade and mentor to Ginger: A socialist, pacifist, modest, principled leader and supporter of working class aspirations for a better world. This is his story.
---
Videos to watch on Facebook:
Premier John Horgan delivers Labour Day greetings
https://www.facebook.com/johnhorganbc/videos/355949675814387
"The history of Labour Day in Canada is rooted in protest, from when fighting for basic rights on the job was illegal. We've come a long way from those roots, but the spirit of the movement is still as important today: to protect and champion the rights of workers. Happy Labour Day."
---