'Unreal' Canadian Photo Takes Top Prize
"It's with a sense of pride to announce we have just been informed that one of our own, Brother Brad Masse had his photograph selected in the public vote as the winner of the 2020 IBEW photo contest! Congratulations Brother Masse on this achievement and recognition of your talent and skill with that stunning photograph that captured so much in one moment," says Brother Doug McKay, Local 258 IBEW Business Manager/Financial Secretary.
The photo appeared in the January 2020 issue of the Hotline magazine: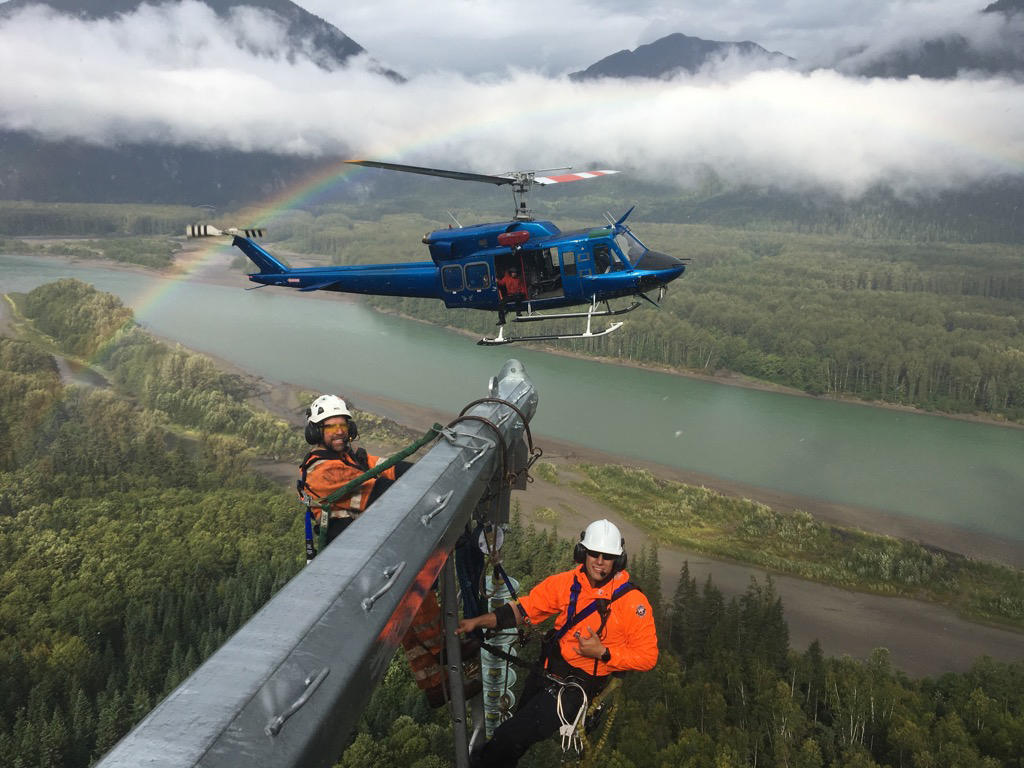 Brother Masse is a lineman by trade and works at BC Hydro's Vancouver Island Transmission based out of Nanaimo. He also serves as a Local 258 IBEW Shop Steward and is a regular contributor to the Hotline magazine and the Union's website.
From the IBEW Electrical Worker April 2021 online edition:
Sometimes the picture that wins the IBEW's annual photo contest captures a quiet moment. A portrait or a vivid sunset.
And sometimes you get a picture that is the visual equivalent of a Neil Peart's drum solo: Mudslide! Mountains! Roaring river! Fog! Helicopter! Rainbow! Hundreds of thousands of volts! Men dangling hundreds of feet in the air!
Vancouver, B.C., Local 258 member Brad Masse's 2020 winner of his brothers Steve Fyfe and Aaron Seaton preparing to reconductor a transmission pole on the Skeena River is packed with stimulating sights.
Not only did it win the most votes, but it also marks the first time a submission from Canada has won the top prize.
"We were looking up at that valley saying, 'This looks like Avatar.' I mean, it is unreal," Masse said.
Masse took this picture in September of 2019, a year after a massive mudslide took down a transmission tower, knocking out power to about 8,000 residents in northwest British Columbia around Prince Rupert.
He was part of a crew of 40 IBEW members that stood up the poles. Each morning they drove 50 km from the town of Terrace to the fly yard just outside the frame across the river. Then helicopters hoisted the men onto the tower. Masse asked the pilot to just hover for a second while he took the picture.
"When I took it, I told everyone, 'This will be the best picture of linework, like ever,'" he said.
Video of the project can also be found at bit.ly/AvalancheRestoration.