Posted November 25, 2021
"Please stay safe out there", says Brother Doug McKay, Local 258 IBEW Business Manager/Financial Secretary, in the wake of destructive flooding and landslides that have wreaked havoc on major roadways and communities from Abbotsford to Merritt to Duffy Lake to Princeton in Southwestern BC. Storms have also affected parts of the Island and Prince Rupert on BC's north coast.
"There has been considerable damage and many of our members have been working the front lines, assessing and restoring power, keeping damaged trees trimmed and controlling traffic. We know many of our members also live in those communities that have been ravaged by flood waters and/or landslide activity. Thank you for the work you are doing in difficult circumstances," says McKay.
More rainstorms are expected over the next few days.
In an attempt to help and assist our neighbours in the Fraser Valley who have been displaced, your Union is collecting items for donation until December 1st. Items can be dropped off at the Union Hall in Langley at Unit #140 – 8029 199thStreet – see the poster below for more information or contact Sister Dayna Gill, ABM, who is spearheading this initiative, at 604-771-8557 or email at dgill@ibew258.bc.ca. Items can also be dropped off in Chilliwack at Streetwise Traffic Controllers, located at Unit #1 – 7870 Enterprise Drive, open Monday to Friday from 8 am to 430 pm – speak with Angelia.
Much needed items include:
air mattresses *urgently needed

new/unused bedding/sleeping bags

hand warmers

new/gently used clothing

adult work boots, shoes of all sizes

new/gently used board games, playing cards, children's toys

personal hygiene items: soap, hand sanitizer, shampoo conditioner, disposable razors, shave cream, feminine hygiene items

gift certificates for grocerie, gas stations, pharmacies, essential services

pet supplies - canned food, dry food, leashes, kitty litter, kennels/cages

non-perishable food items, bottled water, snacks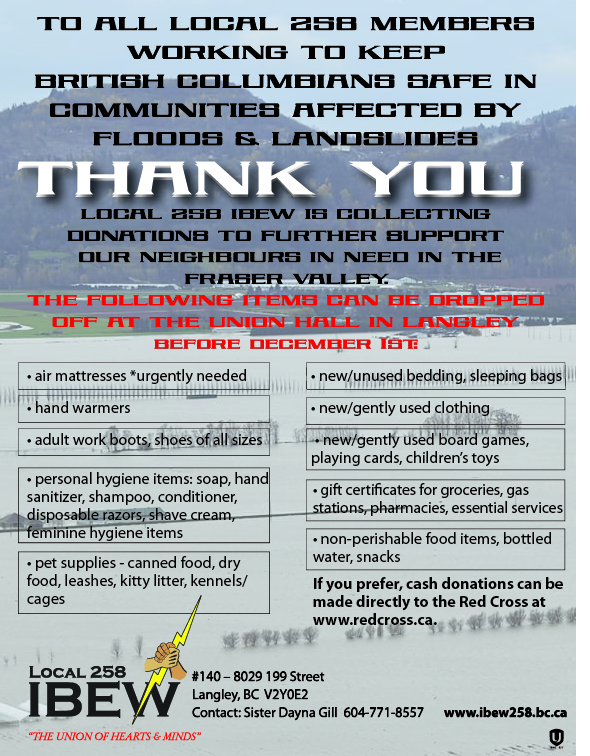 Download:

FLOODDONATIONPOSTERv2.pdf