BC Hydro contract expires today, negotiations for a new collective agreement have commenced - March, 2019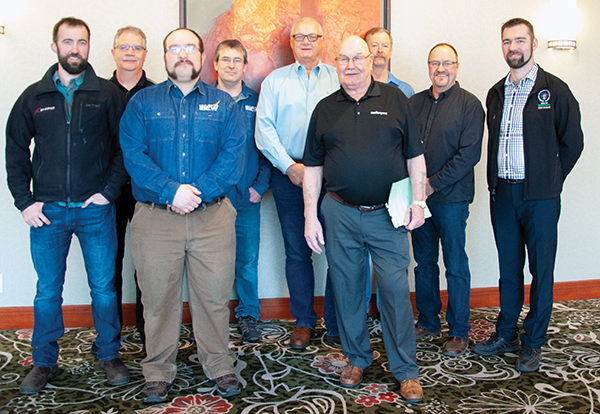 Members of the 2019 Local 258 IBEW BC Hydro Bargaining Committee are, from left: Brother Dave Herrington; Brother Jim Greenwell, Senior Assistant Business Manager; Brother Cody Gatzke; Brother Dave Rathlef; Garnet Zimmerman of GZ Mediation; Brother Doug McKay, Business Manager/Financial Secretary; Brother Dave McMinn, President; Brother Larry Byhre, Treasurer; Brother Rob Munro, Unit 6 Chair.
---
March 31, 2019 – With the contract for more than two thousand Local 258 IBEW members working at the province's electric utility, BC Hydro, expiring today, bargaining has commenced for a new collective agreement.
More than 300 contract proposals have been submitted by members since November of last year. Since then, the union's Bargaining Committee have met a number of times to review and consider what members are looking for in a new agreement.
"We would like to thank our members who have participated by taking the time and effort to submit their proposals," says Brother Doug McKay, Business Manager/Financial Secretary. "As our members work for a crown corporation, the reality is that our negotiations are limited by the government's 2019 Sustainable Services Mandate that includes a three-year term and general wage increases of 2% each year. But, we do have some room to move with additional minimal funding permitted under the mandate, and we appreciate our member's suggestions that can be considered under these terms."
The first round of bargaining got underway on March 18th when the union's Bargaining Committee met in Burnaby with the employer representatives for three days of negotiations.
The next round of bargaining is scheduled for three more days starting Monday, April 8.
Regular news updates will be posted on the Members Resources, password-protected section of your website at www.ibew258.bc.ca as they are issued by the Bargaining Committee. Members working at BC Hydro are also encouraged to attend your next union meeting for further updates and if you have any questions.
Unit 1: Terrace, April 9
Unit 2: 100 Mile House, April 10; Dawson Creek, April 11
Unit 3: Castlegar, April 9; Cranbrook, April 10; Invermere, April 11
Unit 4: Duncan, April 9; Port Hardy, April 10
Unit 5: Vancouver, April 11
Unit 6: Langley, April 9; Chilliwack, April 10