About Local 258 IBEW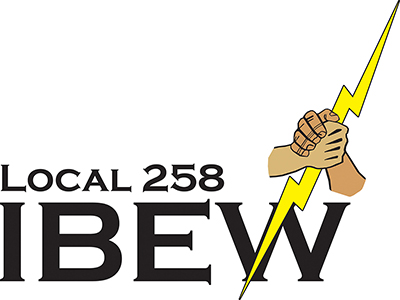 Local 258 of the International Brotherhood of Electrical Workers (IBEW) is a labour union that represents about 4,000 workers in the Electric Utility, Private Power Line, Utility Arborist/Tree Trimming, Manufacturing and Traffic Control industries across the province of British Columbia and in the Yukon Territory.
Workers become members of Local 258 IBEW when they begin their employment with one of our signatory employers. You can also apply for membership with Local 258 IBEW if you have a skilled trade or are considering a career, an apprenticeship or skilled trades training in one of the industries we represent - find our IBEW Member application here. If together with your co-workers you would like to enjoy the benefits and gains of having an IBEW collective agreement in your workplace, please contact our Organizer for more information.
Members of Local 258 IBEW enjoy decent wages, good benefit packages and working conditions, including pensions or RRSP contributions that provide for retirement with dignity. We are able to make these achievements through collective bargaining. Members are also provided high quality Union representation and services in their workplaces that enforce the collective agreement and labour laws. Together, we are stronger as a group than if each of us tried to secure and enforce these workplace gains individually.
Our rights as a trade Union are protected by both Canadian and British Columbian laws – our members have the right to representation by their Union in their workplaces to ensure the gains achieved through freely negotiated collective agreements are protected and enforced.
Local 258 IBEW was chartered in 1967 in Vancouver and our Union Hall is located in Langley, British Columbia. We are part of the International Brotherhood of Electrical Workers that represents about 750,000 active workers and retirees in both Canada and the United States. IBEW members work in a variety of fields, including electric utility (both public and private), construction, telecommunications, broadcasting, manufacturing, railroads and government.
Local 258 IBEW is affiliated to the BC Federation of Labour and the Canadian Labour Congress. Our members also represent our Union at many Labour Councils throughout British Columbia.
Our membership supports numerous charitable organizations, including the United Way, the MS Society of Canada and the Vancouver General/UBC Hospital Foundation Burn & Wound Research Unit. We also support our members with an annual education scholarship, ongoing training opportunities, and by supporting donation requests to organizations our members are directly involved/associated with, as we do our part to help build strong communities.
If you think you and your co-workers could benefit from quality representation in the workplace and membership with Local 258 of the IBEW, please contact our Organizer for more information.
IBEW Code of Excellence
A UNION OF PROFESSIONALS Unions come in all shapes and sizes and sometimes there can be more than one Union representing workers who do different jobs in a workplace. All Unions have the best interests of their members at heart, but beyond that there are often significant differences in philosophy and approach.

Page Last Updated: Aug 13, 2020 (22:57:00)