ABM Dan Giesbrecht announces his retirement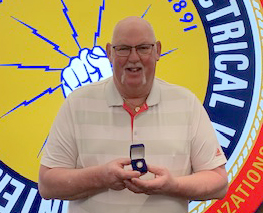 November 2, 2020 - After 40 years as a member of the IBEW, Brother Dan Giesbrecht has announced his official retirement, effective at the end of November.
A lineman by trade, Brother Giesbrecht started his career at BC Hydro. Caught up in the mass layoffs in the early 1980s, Dan sought work in Southern Ontario and with his young family and moved to Windsor where he grew his activism with his Union, Local 636 IBEW.
Returning to BC in 2006, he was hired as an ABM by Brother Doug McKay, and has been representing members as an ABM for the past 14 years. Local 258 IBEW thanks Dan for his service to the Union and wishes him a long and happy retirement.