By Cheyenne Hartley
Local 258 IBEW & NextGen Committee member
October 22, 2020 - We'd like to introduce ourselves – we are the IBEW 258 NEXTGEN Committee and we'd like to invite you to join our Movember Fundraiser, "Grow a Mo to Save a Bro".
NEXTGEN, also called RENEW in the USA, is an initiative popping up in IBEW locals everywhere with support from the international office.
The concept for NEXTGEN is to engage IBEW members under 35 with our Union to get more involved with our communities. If your interest is piqued, please email nextgen@ibew258.bc.ca for more information but for now, we need to talk about facial hair.
Most, if not all of us, have heard of Movember – a play on the month of November when moustaches are grown in support of prostate cancer research. There is a touch more to the story than that though, and I'd like to share it with you.
Full disclosure: I cannot grow a moustache. I don't particularly lament this fact since I identify as a woman, but it does mean that my appreciation for Movember will be slightly different than those sporting the Mo.
So, in 2003, two gentlemen in Melbourne, Australia, mourned the loss of the moustache as a style choice and joked about bringing it back. They convinced 30 men to participate and, inspired by a friend's mother who was fundraising for breast cancer, they penned the Movember rules and held the first Movember campaign for men's health.
Since that quiet beer, the Movember Foundation has expanded to 21 countries and raised over 670 million dollars for men's health programs.
You may notice I say "health programs" and not just "prostate cancer research", and that's because they do quite a bit more than just fund prostate cancer research. They are also heavily involved in testicular cancer research and men's mental health programs. Take a gander at https://ca.movember.com/ to learn more.
So this November, IBEW 258 NEXTGEN will running it's first Movember fundraiser, and we welcome everyone to participate; join for you, for your dads, brothers, sons, co-workers, friends, or just for a socially acceptable reason to grow a rad moustache.
Check out and download our poster below for more details and we hope to hear from you soon!
Two Categories – Two sets of Rules
The Rules for Category #1:
Mister Mo
"Movember's Most Glorious 'Stache"
Once registered on the IBEW 258 NEXTGEN team each Mo Bro must have a clean-shaven face on November 1st.

For the entire month of November each Mo Bro must grow and groom a moustache.

Don't fake it. No beards, no goatees and no fake moustaches.

Use the power of the moustache to create conversation and raise funds for men's health.

Each Mo Bro must conduct himself like a true gentleman.
On December 1st, submit a photo of your magnificent moustache to nextgen@ibew258.bc.ca. Discerning judging by the IBEW 258 Women's Committee.
The Rules for Category #2:
With Great 'Stache Comes Great Responsibility
"Movember's 'Stache that Raised the Most Cash"
Once registered on the IBEW 258 NEXTGEN team, become a passionate advocate for men's health.

Talk to your friends, co-workers and family about men's health and ask them to support your Mo Space.

The IBEW 258 NEXTGEN team member who has raised the most moolah at midnight on November 30th will be the winner.
This moustache ride isn't limited to just the boys. If you're an enthusiastic Mo Sista or Non-Binary Mo, set up your Mo Space at http://ca.movember.com and join the race!
The winner of each category will receive a personal trophy and have their name immortalized for the ages at IBEW 258 headquarters pn the annual trophy plaque.
Any questions please contact IBEW 258 NEXTGEN at nextgen@ibew258.bc.ca.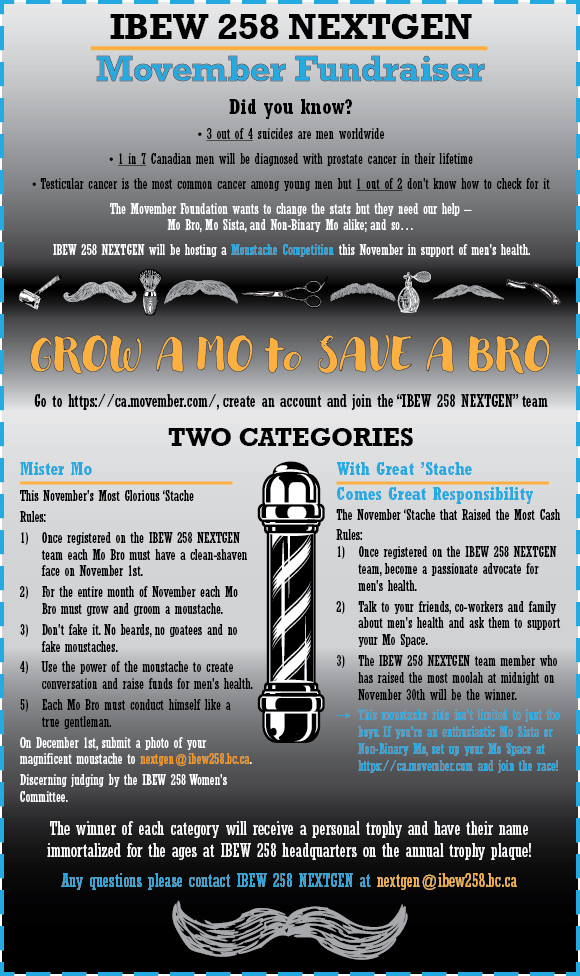 More Information:
What does Movember mean to you?