Message from Doug McKay, Local 258 IBEW Business Manager – May 13, 2021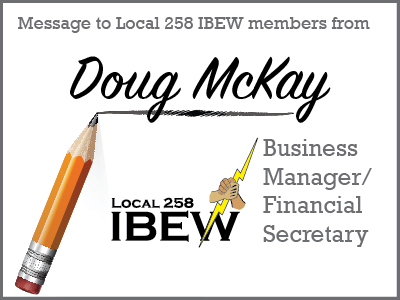 POSTED MAY 18, 2021
The current mail ballot election to select Local 258 delegates to attend the 40th International IBEW Convention has been cancelled. Please disregard the voting packages that will or have been delivered by Canada Post. Find out more here.
The May 2021 issue of the Hotline is being mailed to your home address this week and is now available to view online.
This year's Tom Forkin Memorial Scholarship application opportunity is now closed. Brother Dave McMinn has advised that the decision on the successful applicants will be made at the June 2021 Union Executive Board meeting.
Traffic Control and roadside workers' Cone Zone campaign officially launches on May 17. Local 258 IBEW members working in Traffic Control have been invited to join an online virtual meeting this evening, May 13th, to find out more about our Union, Shop Stewards, Collective Agreements, Negotiations and Committees. Guest Speaker Anita Deiter from the Work Zone Safety Alliance will talk about this year's Cone Zone Campaign.
The May 2021 Executive Board meeting minutes have been posted.
The provincial government has passed legislation granting all workers paid time off to receive your COVID-19 vaccination. Read more here.
AND
From the BC Federation of Labour: BC commits to permanent, paid sick leave, provides limited COVID-19-related coverage. Read article here.
If you have any photos you would like to submit for publication in our Union magazine, the Hotline, please send forward to our editor at communications@ibew258.bc.ca. Don't forget to include a descriptive caption, and your name for photo credit.
If you need to visit your Union headquarters in Langley (see Google map here), please remember to call ahead to schedule an appointment (604-520-3305). Upon arrival, you will be asked to complete a COVID-19 questionnaire, wear a mask, sanitize your hands, maintain physical distance and follow all instructions from our COVID-19 safety trained support staff.
Your next stat holiday is coming up on Monday, May 24th, Victoria Day. The Local Union Hall will be closed and will reopen on Tuesday, May 25th.
Please remain safe and practice all the public health measures, especially washing your hands, wearing a mask, maintaining physical distance and staying home from work if you're not feeling well. Thank you for your attention.
In solidarity,
Doug McKay
Business Manager/Financial Secretary
Local 258 IBEW
cell: 604-209-4067
email: dmckay@ibew258.bc.ca