Email message from Doug McKay, Local 258 IBEW BM/FS – October 16, 2020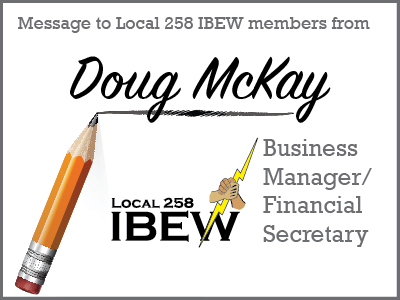 This is a reminder that Advance Voting is now open - every day until next Wednesday, October 21st - for the provincial election taking place on October 24th. Please see your Voting Card that has been mailed to you by Elections BC to locate your advance voting location and hours. If you still want to vote by mail time is running out as tomorrow – Saturday October 17th - is the last day to request your vote-by mail package. In order to be counted, your mail ballot must be returned with a postmark dated no later than October 24th, or, it can be dropped off at your local District Electoral office before election day.
Please log-in to your Union website at www.ibew258.bc.ca to read your Political Action section in Member Resources about the important issues in this election.
I am sad to report we lost two long-time IBEW members last week on October 8 when they were tragically killed in a workplace incident in Weyburn, Saskatchewan. I've been in touch with the Business Manager of Local 2067, Brother William Campbell, and, on behalf of our Local 258 membership, have expressed our condolences on the loss of Brother Scott Bill, 51, and Brother Cole Brooks, 40. Both men worked at SaskPower as linemen and died after being ejected out of the bucket of a boom truck while working. This is a serious reminder to all who perform similar work to make sure you follow all safety protocols, including to "buckle in" when in the bucket. I hope you will stand with me in a moment of silence, contemplation and reflection on the loss of our IBEW brothers and consider the effects of this loss on family, friends and co-workers left behind.
https://globalnews.ca/news/7387893/two-employees-dead-weyburn-saskpower/
UPDATE OCT. 18 - A GoFundMe account has now been established by Allen Stanicki to help support the families of Brother Scott Bill and Brother Cole Brooks.
Thank you for reading this email and please remember Dr. Bonnie Henry's wise advice to "Be kind, be calm, and be safe", at work and at home.
In solidarity,
Doug McKay
Business Manager/Financial Secretary
Local 258 IBEW
Email: dmckay@ibew258.bc.ca
Cell phone: 604-209-4067
Office Direct: 604-515-3240