Email message from Doug McKay, Local 258 IBEW BM/FS – January 25, 2021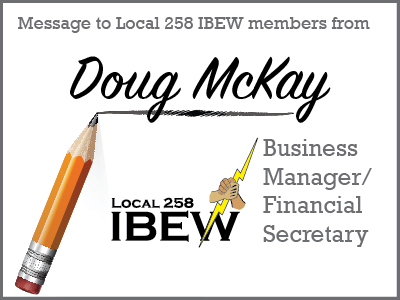 The winter storms have been keeping many of our members very busy with electrical infrastructure and equipment repairs, traffic diversions and fallen tree clearing and cleanup resulting from power outages that have affected hundreds of thousands of British Columbians. I'd like to thank members for your hard work and for maintaining safe work practices in these challenging circumstances.
Tax receipts for Union dues paid in 2020 are scheduled to be mailed to your home address in February – please make sure your address is current with your Union, especially if you have moved in the past year. Remember: your employer DOES NOT share this information with your Union. Address change forms are available on-line at your Union website.
The New Year has gotten underway with your Union Executive Board meeting on January 5th by conference call and minutes have now been posted on your Union website. Local 258 IBEW President Dave McMinn has advised that Unit meetings are not being held due to COVID-19 social distancing regulations.
An important reminder to our members working with our outside private power line employers who will be travelling to the USA for work, you are required to contact the Local 258 IBEW Union Hall in advance of your departure to obtain the mandatory documents (a paid-up dues receipt and letter of introduction) that will allow you to work in a different IBEW jurisdiction.
The IBEW First District Canada has resumed their Wednesday Webinar series after a Christmas break and registration is now open for the February 10th "Introduction to the Code of Excellence" webinar. Find out more, including the registration link, here.
The 2021 IBEW First District Canada Scholarship is now accepting applications and the deadline to apply is February 12, 2021. Read more here.
The Canadian Labour Congress Winter School at Harrison Hot Springs has extended an invitation to all Union members to join their Facebook live broadcast or participate in a Zoom meeting of the following upcoming evening sessions:
Monday Night Political Panels
Monday, January 25th: Opioid Crisis and What Labour Can Do to Help
Monday, February 1st: Impact of COVID on Women
Please register in advance here as space is limited.
Wednesday Night Webinars
Wednesday, January 27th: COVID and Labour Law, presented by Victory Square Law Office
Wednesday, February 3rd: To be announced
Please register in advance here as space is limited.
BC MPs Peter Julian, Don Davies and Jenny Kwan are seeking your support to help advance Bill c-213 through Canada's parliament in Ottawa to establish a National Pharmacare program that will benefit all Canadians. You are also invited to join a Zoom E-Rally with special guest speakers taking place on January 28th – read more and register here.
If you need to visit your Union headquarters in Langley, please remember to call ahead to schedule an appointment (604-520-3305). Upon arrival, you will be asked to complete a COVID-19 questionnaire, wear a mask, sanitize your hands, maintain physical distance and follow all instructions from our COVID-19 safety trained support staff.
Upcoming stat holiday is Monday, February 15th – Family Day.
Please continue to adhere to Dr. Bonnie Henry's wise advice to "Be kind, be calm, and be safe", at work and at home.
In solidarity
Doug McKay
Business Manager/Financial Secretary
Local 258 IBEW
cell: 604-209-4067
email: dmckay@ibew258.bc.ca