Message from Doug McKay, Local 258 IBEW Business Manager – April 3, 2021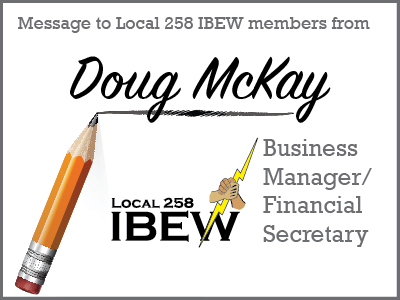 It's with a sense of pride to announce we have just been informed that one of our own, Brother Brad Masse had his photograph selected in the public vote as the winner of the 2020 IBEW photo contest! Congratulations on this achievement and recognition of your talent and skill with that stunning photograph that captured so much in one moment.
For all of our members who were involved with the aftermath of this past week's storm activity throughout a large portion of the province, thank you for the work you do in keeping the power flowing to British Columbian homes and businesses and keeping safety your number 1 priority.
On behalf of our staff, e-board members and support staff, I hope you are enjoying this long weekend. In recognition of the stat holiday, Good Friday, and your Union-negotiated holiday, Easter Monday, our Union Hall is closed until Tuesday, April 6 when it reopens at 8 am with Dispatch opening at 7 am.
Please keep in mind the situation with record breaking COVID-19 transmission rates, especially with younger people, that are being reported here in BC as the pandemic appears to be effectively broadening its reach with the more virulent variants of concern — the British (B.1.1.7), the South African (B.1.351) and the Brazilian (P.1). Although many are being vaccinated (read Job-protected leave for workers to get COVID-19 vaccine), we're not there yet and this is not the time to let your guard down in any way. Stay safe and practice all the public health measures, especially wash your hands, wear a mask, maintain physical distance and stay home from work if you're not feeling well.
A reminder that nominations for delegates to this year's IBEW Convention are now being accepted and the deadline remains Friday, April 16. You can log-in to your website at www.ibew258.bc.ca to find out more.
The 2021 application is now available for download for the Local 258 IBEW Tom Forkin Memorial Scholarship. Deadline to apply is Friday, April 30, 2021.
If you have any photos you would like to submit for publication in our Union magazine, the Hotline, please send forward to our editor at communications@ibew258.bc.ca. Don't forget to include your name for credit and a descriptive caption.
If you need to visit your Union headquarters in Langley, please remember to call ahead to schedule an appointment (604-520-3305). Upon arrival, you will be asked to complete a COVID-19 questionnaire, wear a mask, sanitize your hands, maintain physical distance and follow all instructions from our COVID-19 safety trained support staff.
Please remember to stay safe at work and at home, be kind to one another and to yourself, and thank you for reading this email. Happy Easter!
In solidarity,
Doug McKay
Business Manager/Financial Secretary
Local 258 IBEW
cell: 604-209-4067
email: dmckay@ibew258.bc.ca