March 8th celebrates International Women's Day - March, 2020
March 6, 2020 - International Women's Day (March 8) is a global day celebrating the social, economic, cultural and political achievements of women. The day also marks a call to action for accelerating women's equality.
International Women's Day (IWD) has occurred for well over a century, with the first IWD gathering in 1911 supported by over a million people. Today, IWD belongs to all groups collectively everywhere. IWD is not country, group or organization specific.
The idea for an International Women's Day arose around the turn of the 20th century out of a long-standing movement for women to participate equally in society.
The first International Women's Day was observed on March 19, 1911 in Austria, Denmark, Germany and Switzerland. That day, more than one million women and men showed their support by participating in public events. Between 1913 and 1917, women elsewhere in Europe began to celebrate the day as well.
Over time, International Women's Day has grown to become a global day of recognition and celebration. The theme was expanded by the United Nations in 1975 with the International Women's Year. By 1977, the United Nations had adopted a resolution designating March 8 as International Women's Day. Today, International Women's Day is a national holiday in many countries and celebrated in many more. Following the United Nations' lead, Canada chose March 8 as International Women's Day (IWD).
EVENTS: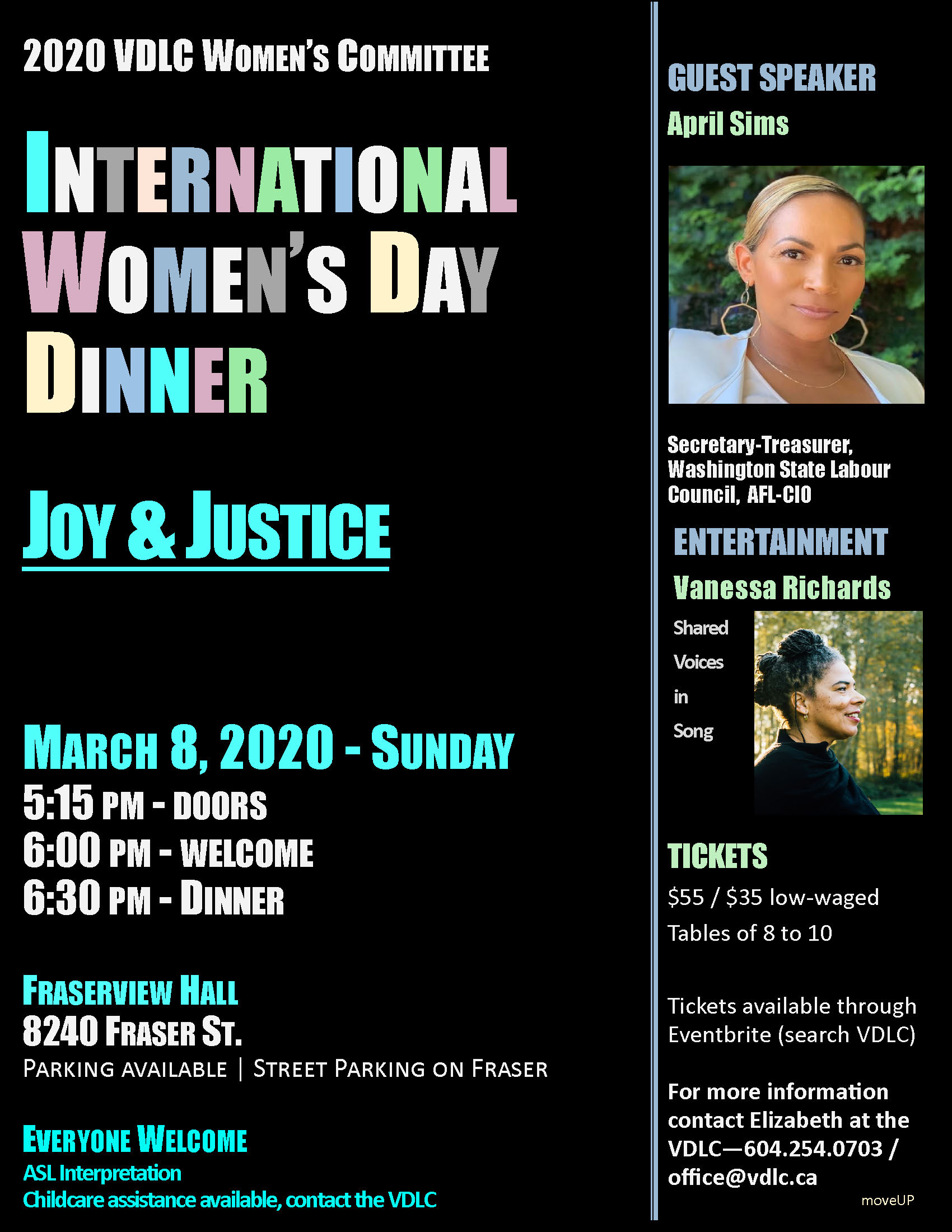 Vancouver: Vancouver & District Labour Council Women's Committee Annual IWD Dinner taking place on Sunday, March 8, 2020, at the Fraserview Hall, 8240 Fraser Street. This year's theme: "Joy 7 Justice". Doors open at 5:15 pm, 6:00 pm Welcome and Dinner at 6:30 pm. Featuring speakers and entertainment. Tickets: $55 ($35 low wage). Your Union has complimentary tickets available – please contact Sister Dayna Gill, Chair of the Local 258 IBEW Women's Committee at 604-515-3243.
Prince George: North Central Labour Council: Breakfast event at the Coast Inn of the North, 770 Brunswick Street. Saturday, March 7, 2020, doors at 8:30 am, Breakfast at 9:00 am. Cost: $30. Contact Natalie at 250-613-9408.