Supporting Green Shirt Day - and a request - April, 2020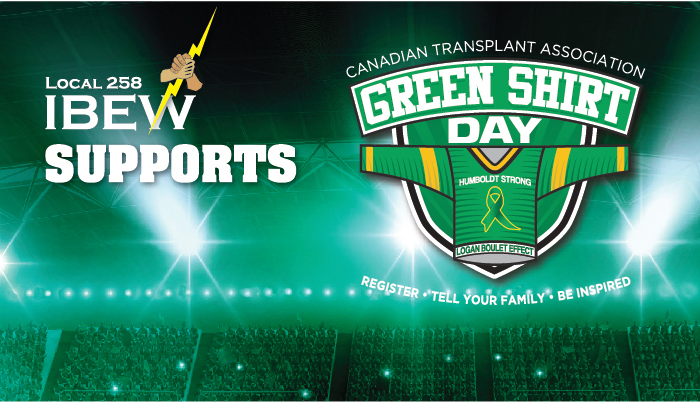 April 7, 2020 - Every year in April, BC Transplant focuses its efforts on raising awareness about organ donation. This time is dedicated to sharing stories and raising awareness about the benefits of organ donation and the life-saving effects of transplantation.
April 7th is Green Shirt Day, launched by the Boulet Family who lost their son Logan Boulet, a 21-year old hockey player, who did not survive the tragic Humboldt Broncos bus crash that killed 16 people in 2018.
Logan registered as an organ donor just weeks before the accident and had spoken to his father about his wishes a year before. Logan was able to save or help improve six people's lives through his organ donation.
Local 258 IBEW has received a request from one of our members, Brother Dylan McKay. Dylan's dad, Brother Jim McKay, retired Lineman and retired Dispatcher with our Union, is in need of a kidney. Due to some previous health issues, Jim underwent chemotherapy which damaged his kidneys. Without a new kidney, Jim is fighting an uphill battle.
With our focus on keeping COVID-19 from spreading it's deadly tentacles, requests like this this one may be overlooked. If you have ever been interested in organ donation, the time may be right for you to see if you are a match for Jim. Please contact the Union Hall (phone:604-520-3305; toll-free 1-877-520-3305; email info@ibew258.bc.ca) and we can connect you with Dylan and Jim for further information.
Local 258 IBEW encourages our members and your families to have conversations about organ donation, register as an organ donor, and to consider participating in the 2020 Green Shirt Day campaign.
Additional information is also available at the Canadian Transplant Association website.