Local 258 IBEW News
An Important Message From IBEW Canada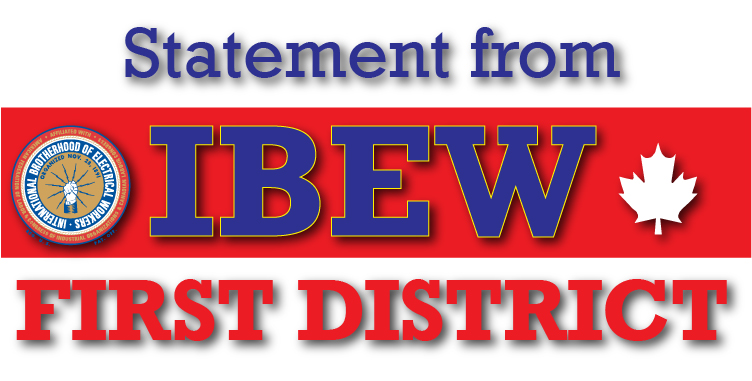 To all members of Local 258 IBEW: Please read the correspondence below regarding the unfair labour practices being undertaken by the United Brotherhood of Carpenters (UBC). All Local Unions of the IBEW have been instructed by First District International Vice President Russ Shewchuk to ensure its members are aware of Canada's Building Trades Unions declaration against the UBC.

A Message from Local 258
Posted and sent by email December 23, 2022 The Local 258 IBEW Union Hall will be closed over the holidays between December 23rd and January 2nd. Our office will reopen on January 3, 2023.

Bargaining set to get underway for Master Traffic Control Agreement
Attention: To all Local 258 IBEW members working in traffic control: Posted November 25, 2022 We are coming close to meeting with traffic control employers to commence bargaining for the Master Traffic Control Agreement. We do not currently have buy-in from all the employers. This first meeting will determine which companies will be moving forward and joining the Master Agreement.

258 Statement on 213 win at federal labour board
November 17, 2022 - Local 258 IBEW would like to extend congratulations to our brothers and sisters over at IBEW Local 213 in Port Coquitlam after their successful ruling at the Canadian Industrial Relations Board. In 2017, workers at Ledcor Technical Solutions certified with Local 213. These members have been attempting to secure their first collective agreement ever since.

Remembrance Day Message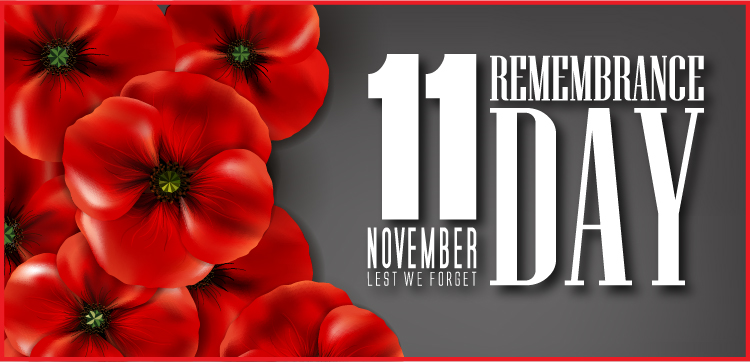 Remembrance Day was first observed throughout the British Commonwealth in 1919.  It was held to pay tribute to the end of the First World War through the signing of the Armistice Agreement on November 11, 1918, at 11 am.   It is because of the brave men and women who have served our great nation that we enjoy the peace and freedoms we have today.

IBEW Canada's Statement on Ontario Bill 28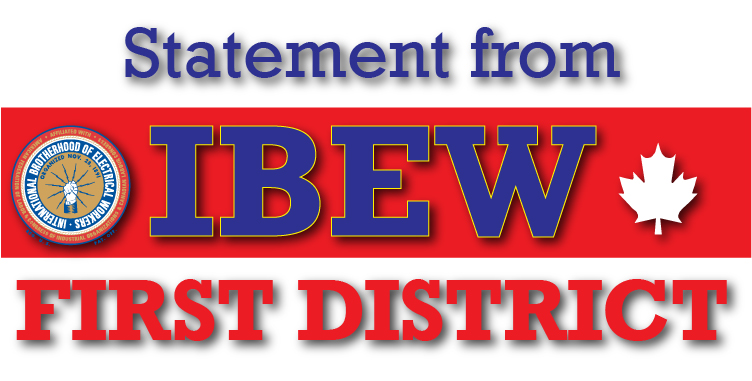 POSTED NOV. 7, 2022 Earlier this week, the Government of Ontario passed legislation which imposed a contract on 55,000 education workers represented by the Canadian Union of Public Employees (CUPE). Included in the legislation was the rarely invoked notwithstanding clause, which blocks a constitutional challenge by the union over charter rights, that being the right to strike.

Happy Halloween! News & Events Updates
Posted October 31, 2022 HAPPY HALLOWEEN! On behalf of Local 258 IBEW we would like to wish everyone a happy and safe Halloween. IBEW/BC Hydro Bargaining Update: Local 258 and BC Hydro are set to resume negotiations in late November.

Municipal Elections 2022
VOTING DAY IS SATURDAY, OCTOBER 15th Local labour councils have asked the questions and have done the interviews.

National Day of Truth & Reconciliation
September 30TH marks the national holiday recognizing Canada's commemoration of the National Day for Truth and Reconciliation, an important part of the reconciliation process that has been called for by indigenous people and by the Truth and Reconciliation Commission of Canada.

Union Hall closed on Monday, September 19, 2022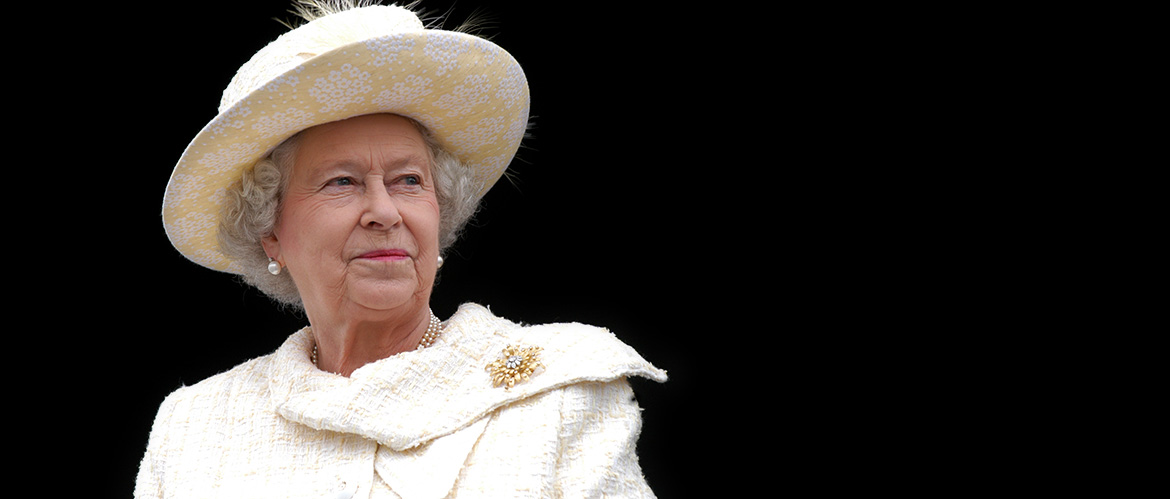 In observance of the passing of Queen Elizabeth II and the National Day of Mourning, the Local 258 IBEW Union Hall will be closed on Monday, September 19, 2022. Find out more about federal events here. Find out more about provincial events here. The Union Hall will re-open on Tuesday, September 20 at 7:00 am  (Dispatch).

News & Events Updates

Posted August 26, 2022 - Collective Bargaining - BC Hydro & L258 IBEW We are all aware of the disputes between the BC Government and two of its Unions, the BC General Employees' Union (BCGEU) and the Professional Employees' Association (PEA).  Both Unions have issued 72-hour strike notice, and on August 23rd, BCGEU accepted the government's offer to return to the bargaining table.

Labour Day community events 2022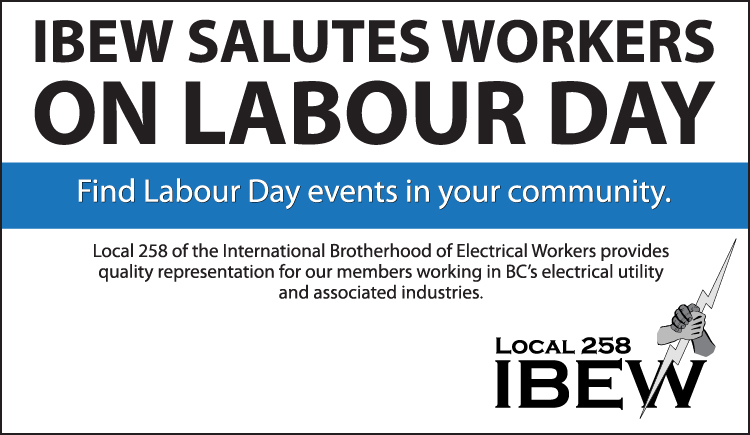 Find a local labour council community event celebrating Labour Day: UNIT 2 – PRINCE GEORGE North Central Labour Council Labour Day Event Downtown march, bouncy castle, free mini donuts, slushies, hot dogs and more! Canada Games Plaza, 808 Canada Games Way, Prince George Monday, September 5, Downtown march at 10:30 a.m. Event from 12:00 p.m. to 3:00 p.m.

Election protest investigation conducted
POSTED July 20, 2022 Brother Tony Brand, Local 258 IBEW Election Judge, has advised that IBEW First District International Representative Adam Van Steinburg has now completed a comprehensive investigation in response to an election protest that was filed.

Election Judge: issues update
POSTED JULY 15, 2022 On July 13, 2022, we posted a letter from Russ Shewchuk, International Vice President, to Members of IBEW Local 258 announcing an election protest.

A day of welcomes and thank yous
As Local 258 enters into our 55th year of being awarded a charter by the International Brotherhood of Electrical Workers, our recently elected Executive Board members, including our Officers, were administered the Oath of Office and sworn in to serve the membership by First District International Representative Adam van Steinburg.

The Jody Colquhoun Memorial Fund
Local 258 IBEW ABM Rob Munro is sharing news from Brother Pascal Falardeau who works at BC Hydro, Sechelt DO, that he has created a gofundme page, The Jody Colquhoun Memorial Fund, to help support the family of his co-worker,  the late Jody Colquhoun.

Master Line Agreement ratified
After more than four months of intense negotiations , including issuing strike notice, members working the Master Line Agreement voted overwhelmingly in favour of ratifying a new contract on May 23rd via digital vote. The agreement was recommended by both the mediator after two days of hearings, and the Local 258 IBEW Bargaining Committee, led by Sr.

2022 Election vote count results
POSTED JUNE 2, 2022 Yesterday's union election vote count has resulted in Brother Kevin Duchak being elected as the Local's new President, defeating incumbent Dave McMinn who has served one term and challenger Brother Steven Rochon.

Supporting Period Promise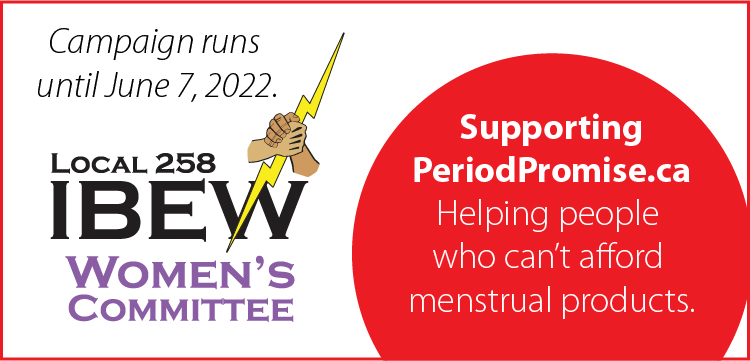 Seeking donations POSTED MAY 25, 2022 Our Local 258 IBEW Women's Committee is supporting the United Way's Period Promise campaign, presented by Pacific Blue Cross. The campaign is committed to making it easier for everybody to access the menstrual product they need when they need it.

Master Line negotiations update May 19, 2022

UPDATE MAY 19, 2022 Two days of mediated hearings on May 12 & 13 have resulted in a tentative agreement being reached between the Union and the private power line/outside construction employers' group in the Master Line Agreement negotiations.

Union Elections – ballots have been mailed
POSTED MAY 16, 2022 Ballot packages were mailed on April 29th to all eligible voting members of Local 258 IBEW and are being delivered to your home address the Union has on file for you by the unionized workers at Canada Post, members of the Canadian Union of Postal Workers.

BC Hydro Bargaining Update - April 29, 2022
The IBEW Bargaining Committee has had our second set of negotiations with BC Hydro on April 20 and 21.  Although the collective agreement has expired  I want to remind you that the collective agreement is in full force and effect until it's either re-negotiated or broken by a strike or lock out.

BC Hydro Bargaining Update - April 19, 2022
POSTED APRIL 19, 2022 The collective agreement with BC Hydro expired on March 31, 2022, and your Union's Bargaining Committee met with this employer's representatives on April 11, 12 and 13, 2022. We are scheduled for our second session of bargaining April 20 and 21st.

Master Line Bargaining Update
POSTED APRIL 19, 2022 The Line Contractor members rejected the "employers' final offer" in an electronic vote in March.  We hosted an information conference call on April 11, 2022 to provide an opportunity for members to ask questions.   A strike vote via Simply Voting took place and we received a strong strike mandate.

Supporting Green Shirt Day and helping a Brother in need
POSTED APRIL, 2022 Every year in April, BC Transplant focuses its efforts on raising awareness about organ donation. This time is dedicated to sharing stories and raising awareness about the benefits of organ donation and the life-saving effects of transplantation.

Province simplifying, strengthening paid sick leave
POSTED MARCH 31, 2022 Amendments to B.C.'s Employment Standards Act will strengthen paid sick leave legislation to protect workers and simplify the administrative process for businesses.  Harry Bains, Minister of Labour, introduced changes to address two issues that have been raised since the five days of employer-paid sick leave came into effect on Jan. 1, 2022.

Delivering help for Canadian workers and families
POSTED MARCH 31, 2022 – from IBEW First District Over the past couple years, life for Canadians has had great uncertainty; from the COVID-19 pandemic to divisive politics and most recently the Russian invasion of Ukraine.

Supporting Ukraine Humanitarian Crisis Appeal
 POSTED MARCH 24, 2022 In the past weeks we have watched the horrific events in Ukraine unfold. Russia's unprovoked invasion of Ukraine has sent a shockwave throughout the world. However, at a time when there has been much division over pandemic policies, the world has united in their unwavering support for the people of Ukraine.

Arbitrator delivers decision on Union's Policy Grievance
POSTED MARCH 23, 2022 MEMBERS CAN LOG-IN TO YOUR ACCOUNT TO READ THE FULL DECISION, POSTED ON THE MEMBER HOME PAGE. The Union filed a grievance over B.C. Hydro's decision to implement a Policy requiring that bargaining unit employees be vaccinated by November 22, 2021 or be held out of service.

International Women's Day Virtual Event
POSTED MARCH 3, 2022 The Vancouver and District Labour Council Women's Committee invites you to their annual International Women's Day virtual event on Tuesday March 8th from 6:00 pm to 7:00 pm. This year's virtual event is free to attend and the topic is "Truth and Reconciliation: Paddles Up - Getting Ready".

Unit Meetings to resume with nominations for election
POSTED FEBRUARY 25, 2022 Twenty-four months ago, Local 258 IBEW President Dave McMinn suspended all in-person Unit Meetings across the province when public health orders were issued in response to the COVID-19 pandemic limiting public gatherings. The suspension was approved by IBEW Canada.

Happy Family Day long weekend!
POSTED FEB. 19, 2022 Monday, February 21 is the stat holiday Family Day. Please enjoy the long weekend celebrating Family Day.

Master Line Contract Talks – Important Bargaining Update
Posted February 15, 2022 Local 258 IBEW members working for outside line contractors under the Master Line Agreement are urgently advised to register their personal email address with the Union Hall as soon as possible so they can receive important information about a proposed contract, including electronic voting procedures, anticipated to be delivered early next week, advises Sr.

Maintaining your Union dues while on leave
POSTED DECEMBER 7, 2021 Your Union has been getting questions from members about paying Union dues while on leave from your employer. Please be advised it is your responsibility to maintain your Union membership (A or BA) with payment of monthly "unemployed" Union dues while on leave from your employer.

IBEW Convention Anthem Contest - entry deadline
March 4, 2022
UPDATED MARCH 5, 2022 - THIS CONTEST IS NOW CLOSED. POSTED JANUARY 20, 2022 As you are aware, our 40th International Convention will be taking place in Chicago, IL, in May 9-13, 2022. As part of the opening ceremonies, we traditionally have a Canadian present to sing our National Anthem. Due to the success in 2016, we will once again be opening up this opportunity to any interested IBEW Canada members, by way of a contest.

Union Hall closed due to COVID-19 surge – appointments required
UPDATE FEB. 20, 2022 - As provincial health regulations are easing with the COVID-19 pandemic, the Union Hall in Langley has lifted the requirement for appointments and welcomes members to visit when desired. Members attending a meeting will have to wear a mask.

Delegates elected for International Convention
UPDATED JANUARY 21, 2022 The ballots have been counted and the successful candidates have been notified. Congratulations to the elected Delegates and Alternates, highlighted and identified below. Delegates will be joining Brother Doug McKay, Business Manager/Financial Secretary and Brother Dave McMinn, President at the 40th International Convention of the IBEW in Chicago in May.

Holiday Hours 2021
POSTED DEC. 23, 2021 The Local 258 IBEW Union Hall will be closed during the Christmas holidays, starting today, Thursday, December 23rd at noon and will re-open on Tuesday, January 4, 2021, at 8:00 am (Dispatch at 7:00 am).

STAY SAFE OUT THERE!
Posted November 25, 2021 "Please stay safe out there", says Brother Doug McKay, Local 258 IBEW Business Manager/Financial Secretary, in the wake of destructive flooding and landslides that have wreaked havoc on major roadways and communities from Abbotsford to Merritt to Duffy Lake to Princeton in Southwestern BC.
Download:


FLOODDONATIONPOSTERv2.pdf
Vaccine status deadline approaching at BC Hydro
Posted November 19, 2021 at 3:30 pm As the first deadline date of Monday, November 22nd approaches for BC Hydro's Vaccine Mandate policy, the Union has been receiving limited requested information from the Crown Corporation.

Union files policy grievance
November 16, 2021 - Doug McKay, Local 258 IBEW Business Manager/Financial Secretary reports the Union has filed a grievance this morning in response to BC Hydro's COVID-19 Vaccine Policy. "We have filed a policy grievance to address our concerns surrounding the policy rollout and content," says McKay.

Call for Nominations for 40th IBEW Convention
Nominations for Delegates to the 40th IBEW International Convention slated to be held May 9 - 13, 2022 in Chicago, Illinois will be accepted November 1, 2021 to November 19, 2021. Nominations are required to be received by Local 258 no later than 16:00 on Friday, November 19, 2021.

Employment Insurance and Mandatory Vaccination Policies
FROM THE IBEW CANADA WEBSITE - POSTED OCTOBER 20, 2021 A Message from the International Vice President Tom Reid Greetings: There have been recent changes made by Employment and Social Development Canada (ESDC) regarding Canada's Employment Insurance system in light of COVID-19 and an employer's mandatory vaccination policy.

Business Manager Doug McKay to host Union Conference Call
UPDATED WITH TOLL FREE CONFERENCE CALL NUMBER I would like to thank all the members who have communicated with your Union these past few weeks regarding BC Hydro's vaccine mandate. We have heard and read many passionate opinions from all sides and emotions are running high.

BC Hydro's Vaccine Mandate
UPDATED OCTOBER 12 @ 9:00 am We have heard from many of our members who have expressed their opinions on BC Hydro's vaccine mandate.  Some are opposing the mandate, some are in favour and some who have been vaccinated but want to support their brothers and sisters right to choose.  We are working with our legal counsel and the greater labour movement to address the concerns of the membership. 

National Day of Truth and Reconciliation
Started in 2013, Orange Shirt Day helps increase awareness of the effects of Residential Schools on Indigenous Communities in Canada. The name comes from the story of Phyllis (Jack) Webstad.

Happy Labour Day 2021
On behalf of my Assistant Business Managers, our Union's Executive Board and staff at the Union Hall, I hope you are enjoying a safe and happy Labour Day long weekend.

Injured workers left waiting, eighteen months after government report calling for change
Posted June 10, 2021 (Unceded Squamish, Tsleil-Waututh and Musqueam territories — Vancouver, BC) June 1st is recognized as National Injured Workers' Day and one of the key legislative priorities for the BCFED and its' affiliates, including Local 258 IBEW, is to reform the Workers Compensation Board (WCB) system to ensure that injured workers are treated fairly.

Well wishes for Bob Kilian and his Family
On June 2, 2021, Bob Kilian, BC Hydro Power Line Foreperson was injured in an electrical contact incident.  Thank you to the Valley Power Line Contracting Ltd crew who were working in the same area and attended the scene to support Bob's crew and the traffic control tech on site.

Minister's statement on paid sick leave for COVID-19
POSTED MAY 21, 2021 Harry Bains, Minister of Labour, has issued the following statement on paid sick leave for COVID-19: "No worker should have to choose between going to work sick or losing pay to stay home. Effective May 20, workers can take up to three days of paid sick leave for circumstances related to COVID-19.

May is Asian Heritage month
May, 2021 - Asian Heritage Month is an opportunity for all Canadians to learn more about the many achievements and contributions of Canadians of Asian descent who, throughout our history, have done so much to make Canada the amazing country we share today.

Cone Zone season has arrived. Slow down and pay attention. 
Local 258 IBEW represents hundreds of workers in traffic control, electric utility and in the arborist industry who work at the roadside. And we want to ensure their workplace is safe. Every day tens of thousands of workers in British Columbia are depending on drivers, like you, to keep control of your vehicle in a Cone Zone.

'Unreal' Canadian Photo Takes Top Prize
"It's with a sense of pride to announce we have just been informed that one of our own, Brother Brad Masse had his photograph selected in the public vote as the winner of the 2020 IBEW photo contest.

Stay safe this Easter long weekend
In an email message sent to members registered with an account on the Local 258  IBEW website, Business Manager Doug McKay wrote, "On behalf of our staff, e-board members and support staff, I hope you are enjoying this long weekend.

Thank You for your support!!
May 11, 2021 – BC announced changes to the Employment Standards Act today that will bring permanent, paid sick leave to workers in BC.

International Women's Day 2021
Brother Tom Reid, International Vice President IBEW First District Canada, delivers a message for International Women's Day. Read the statement from the BC Fed. Find out more about the IWD 2021 event: SHE-CESSION - THE ECONOMIC IMPACT OF THE PANDEMIC ON WOMEN AND FAMILIES, a virtual Zoom event.

Support IBEW Canada members at NAV CANADA – sign the petition today!
The International Brotherhood of Electrical Workers (IBEW) Local Union 2228 represents a large group of electronics technologists at NAV CANADA referred to as Air Traffic Safety Electronics Personnel. These IBEW members install and maintain critical infrastructure required for safe air navigation in Canada.

IBEW First District Scholarship Draw for 2021 awarded
UPDATED FEB. 19, 2021: News from IBEW First District - Thank you to everyone who submitted their names and essays for the 2020/2021 IBEW First District Scholarships Award; we received entries this year from 142 applicants. A random draw was made this morning at the First District Office, and it is our pleasure to announce the following winners:

Monday the 15th is Family Day – a stat holiday
The third Monday in February, this year landing on the 15th, has been designated by the provincial government as Family Day, a stat holiday. Family Day is recognized in all Local 258 collective agreements as a paid holiday, and if you have to work on this day, premium rates apply. BC Family Day gives families the opportunity to spend time with their loved ones.

Christmas Message from Doug McKay, Local 258 IBEW BM/FS – December 23, 2020
Thank you to all members who have recently been working long hours in many communities across the province as difficult weather conditions are causing numerous power outages. All of your hard work restoring the power is greatly appreciated by British Columbians and your Union reminds you that safety at work remains our #1 priority. Please stay safe out there.

Supporting those in need during the holidays
December 22, 2020 - Our Local 258 Women's Committee thanks everyone for their support, including the Local 258 IBEW Executive Board and Power Earth Management, for the donation of much needed items for women and children in need that was recently collected and delivered to the Atira Women's Resource Society in early December.

Message from Dave McMinn, President
December 22, 2020 - On behalf of myself and the Executive board officers of IBEW Local 258 we would like to wish all the membership a very Merry Christmas and a Happy and safe New Year in 2021

What does Movember mean to you?
Message from Brother Kaleb Slamang, NextGen Committee member Movember is a lot more than just an excuse to grow an awesome moustache. It is a conversation starter that has a very deep meaning. Not only is the campaign a fundraiser for prostate cancer it is also a vehicle to talk about the heavy topic of men's mental health.

Take the Survey
The Canadian Labour Congress, working with researchers at Western University and the University of Toronto, is conducting a national survey on violence and sexual harassment in the workplace. Take the survey here. Violence and harassment at work remains a major social problem in Canada. This survey will shed light on the prevalence of violence and harassment in our workplaces.

It's Moustache Season!
By Cheyenne Hartley Local 258 IBEW & NextGen Committee member We'd like to introduce ourselves – we are the IBEW 258 NEXTGEN Committee and we'd like to invite you to join our Movember Fundraiser, "Grow a Mo to Save a Bro".

Please support Sister Rachel Allan's fundraiser for the UWLM
September 25, 2020 - With the ongoing COVID-19 pandemic, the United Way of the Lower Mainland has launched the Climb Up Challenge – running from September 23 to October 30, 2020 - to help raise funds to support programs that serve the immediate needs of our vulnerable neighbours, as well as provide continued support to families. The goal is for participants to complete 28,300 steps before this campaign ends.

Labour Day 2020
September 3, 2020 - On behalf of my Assistant Business Managers, our Union's Executive Board and staff at the Union Hall, I wish you all a safe and happy Labour Day long weekend and thank you for the important work you do.

Changes to Workers' Compensation Act a welcome first step: BCFED
August 14, 2020 – Changes enacted into law today are a big first step in creating a worker-centered approach to health and safety and ensuring support for injured workers, BCFED President Laird Cronk said today. "These long-overdue changes will prevent injuries and save lives," he said shortly after Bill 23 received royal assent.

National Lineworkers Appreciation Day
July 10 is National Lineworker Appreciation Day, an occasion to celebrate the men and women who keep North America's electricity running and to memorialize those who have been injured or killed doing their job.

IBEW Canada condemns racist actions on job sites
From IBEW Canada Mississauga, ON – June 29, 2020 – The International Brotherhood of Electrical Workers (IBEW) Canada condemns the racist acts that have been found on three separate construction sites in the Greater Toronto Area over the last several weeks.

Message to members from Brother Doug McKay, Business Manager - June 19, 2020
As we continue to adapt to these changing times with the COVID-19 pandemic and our revised workplaces, alterations in familiar personal and family relationships and evolving social structures, I feel it is important to again recognize the valuable contribution you are making on the front line in doing our part to ensure our province's electric utility is maintained, functioning and meeting the challenges of keeping the power flowing in BC.

BC Fed issues Statement on National Indigenous Peoples Day - June 21, 2020
June 21 is a day to recognize and celebrate First Nations, Inuit and Métis peoples. And while we celebrate Indigenous peoples, we must also recognize that these continue to be difficult and painful times. The promise and hopes for reconciliation raised over the past few years have often failed to turn into meaningful action.

Sharing your show of support! - April, 2020
April 16, 2020 - Many neighbourhoods across BC are honouring front line workers, including those in healthcare, with a 7:00 pm display of support. If you're participating in your community, including families with children who are hanging hearts in windows, on trees, etc.

Supporting Green Shirt Day - and a request - April, 2020
April 7, 2020 - Every year in April, BC Transplant focuses its efforts on raising awareness about organ donation. This time is dedicated to sharing stories and raising awareness about the benefits of organ donation and the life-saving effects of transplantation.

TAKE THE SURVEY!
The CSA Group, an organization the Canadian Labour Congress (CLC) works closely with on developing occupational health and safety standards, is conducting a research project entitled "Investigating the Challenges Canadian Women Face Regarding Work Mandated PPE.

IBEW First District Scholarship WINNERS announced
American Income Life and TD Insurance Meloche Monnex, in conjunction with the IBEW First District, are offering five (5) Scholarships in the amount of $1,000.00 each to all IBEW members and their families who are in studies pursuing a post-secondary diploma or degree.

Canada Day 2021
While we are very grateful to live in a country where we enjoy many privileges, we must acknowledge that these privileges aren't equitably distributed.

Supporting COVID-19 relief - April, 2020
April 10, 2020 - A group of Local 258 IBEW members working as Apprentice Power Line Technicians at BC Hydro have issued a challenge to consider supporting COVID-19 relief efforts in Canada by making a financial donation through CanadaHelps.

Tax receipts for 2019 Union dues have been mailed - March, 2020
March, 2020 - Attention: Local 258 IBEW members: tax receipts for Union dues paid in 2019 have now been mailed to your home address. If you have not received your official receipt for income tax purposes, make sure your address is current with your Union, especially if you have moved in the past year. Remember: your employer DOES NOT share this information with your Union.

Statement to Local 258 IBEW members regarding Coronavirus (COVID-19) - March, 2020
March 7, 2020 - With concerns rising about the current outbreak of coronavirus (COVID-19), Local 258 IBEW would like to remind members to practice frequent handwashing and to follow recommended health and safety practices as recommended by Canada's and BC'S health authorities in an effort to stem the spread of this potentially deadly respiratory illness.

Page Last Updated: Apr 30, 2023 (19:17:00)